British Downhill Series Round 1
BRITISH NATIONAL DOWNHILL IS BACK
After an uncertain couple of years thanks to thou that shall not be named, its awesome to be back between the tapes and back racing downhill. Damn it feels good to!

Team Wideopenmag was born out of racing British National Downhill races. They have spent over a decade helping young, talented British racers to learn the art of going fast and supported them at the UK's top race series.

Downhill World Cup stars including Laurie Greenland, Charlie Hatton, Rich Thomas, Chris Cumming, Morgan Tyrell and Jay Williamson have all honed their craft through the Wideopen team. Nukeproof have been a proud supporter of the team thought and welcoming the class of 2021.

So up to the North East for Round 1 in sunny Hamsterly Forest.



Round 1: Hamsterley Forest:  
For 2021, we've got a flat-out hat-trick of young riders made up of Andrew Georgeson, Elin Berry and Natasha Bradley all of which are stupidly talented on two wheels and live to ride. Whilst Natasha is no stranger to racing, Andrew and Elin are both pretty new to British Nationals. They've both raced loads of regional, local UK events but 2021 is their first year of 'proper' racing.

With Natasha on the injury bench with a broken collarbone, it was up to young guns Andrew and Elin to represent the team at the first big race of the season, the opening round of the British National Downhill Series at Hamsterley.

The race organisers, Gravity Events UK, put on a short but intense track for the race. Taking just over 90 seconds to negotiate, it was a little short for 'national' standards but certainly wasn't lacking in technical features. After a short, sharp pedal off the line riders were thrown into a warzone of technical step downs, rooty landings, steep chutes and nasty, blown out turns.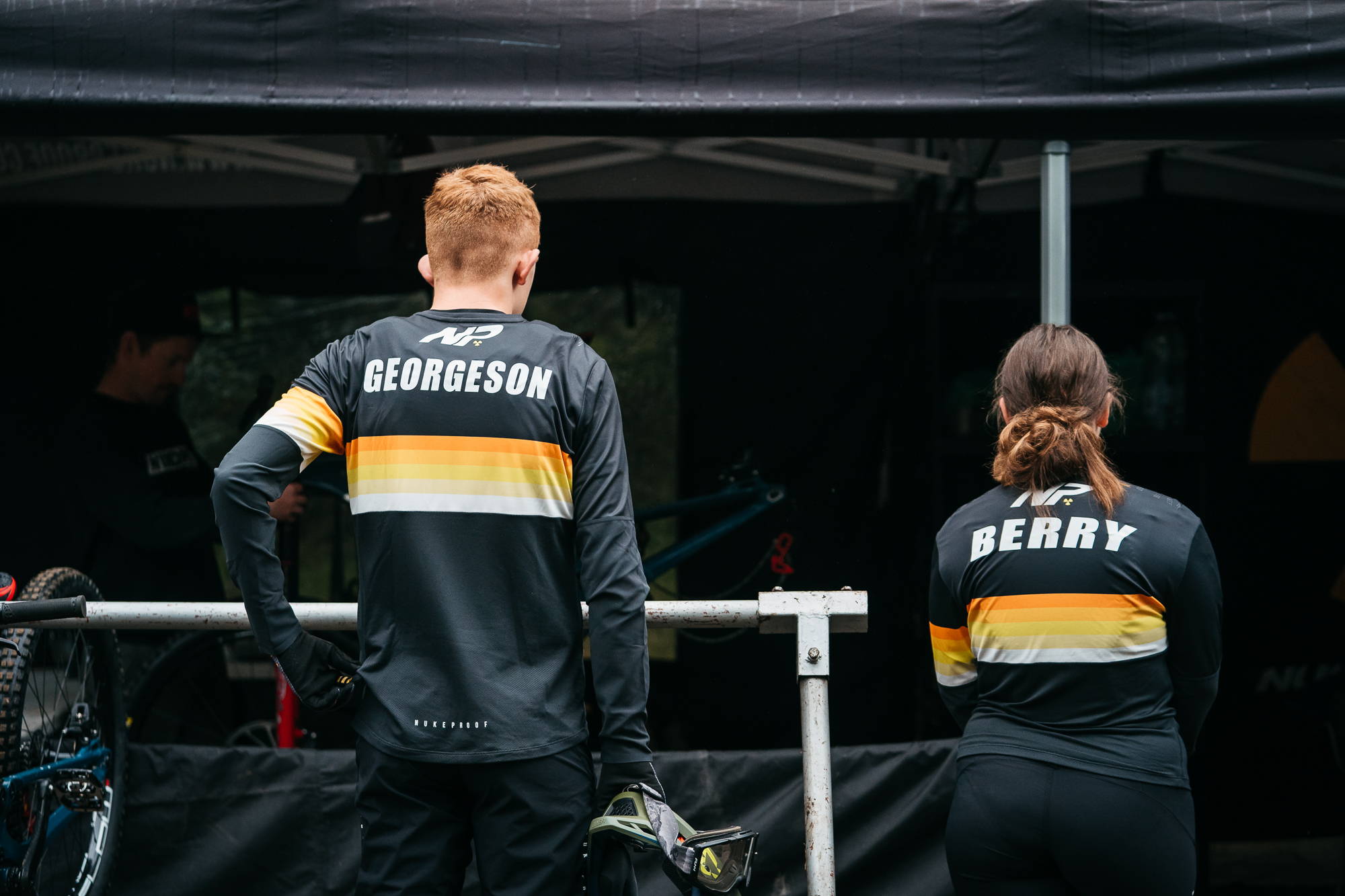 ---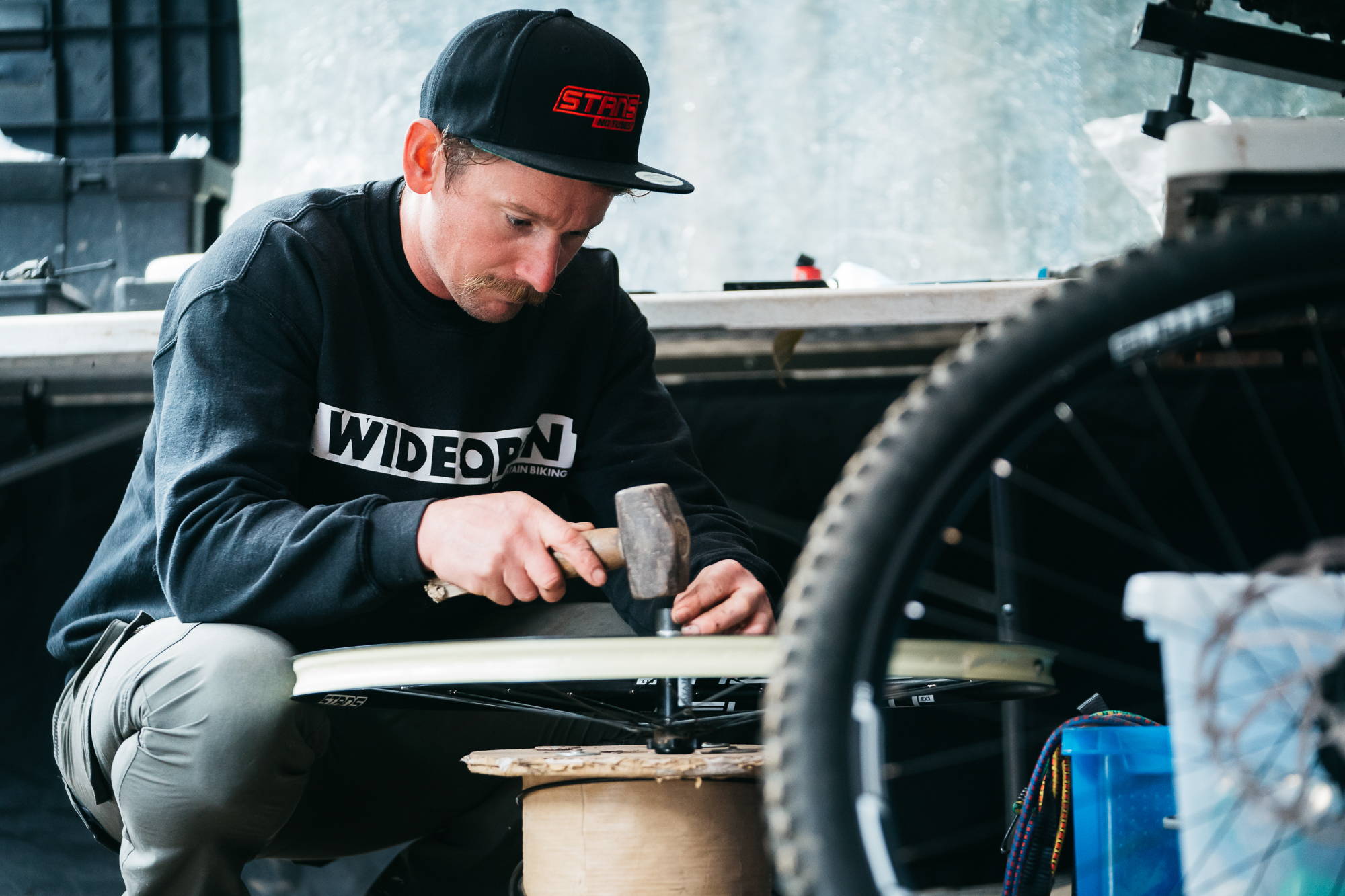 "I took a risk to just push harder and try to ignore the wet conditions".
---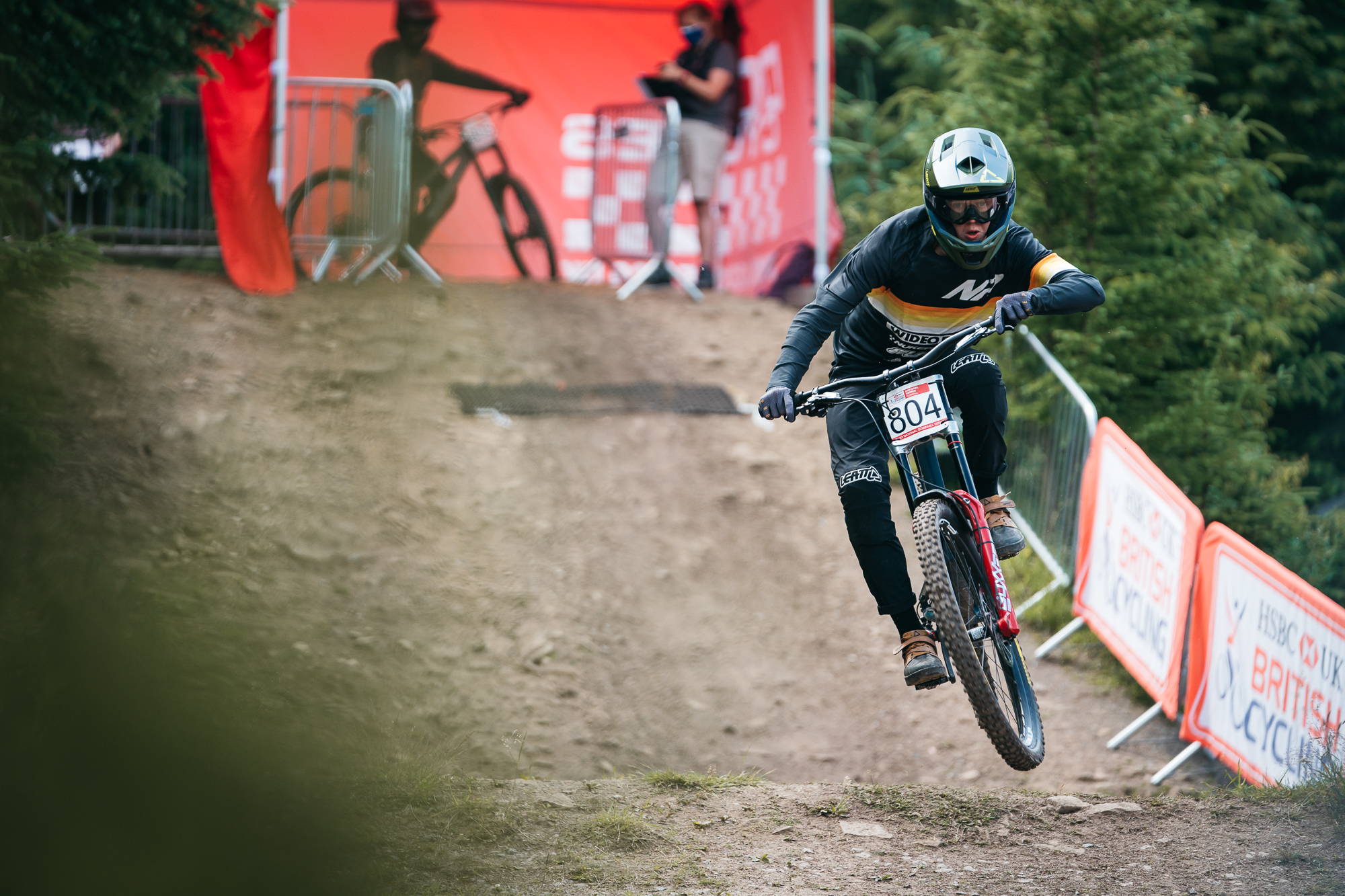 Elin and Andrew got stuck straight in on Saturday, both on their custom Nukeproof Dissent's, built with Stans No Tubes, Funn Components, Granite Designs and - of course - Nukeproof. Both had plenty of experience of Hamsterley's trails after the Wideopen Warm up earlier at the venue at start of 2021. Both Elin and Andrew didn't waste any time getting up to speed.

Saturday's practice was drama-free, thanks in part due to the awesome support Wideopen offers its riders. A full pit set up with super-Drew the mechanic and Dave and Jamie there to support the riders. Sunday laid down a little more fo a challenge. The clouds rolled in and weather turned creating some very tricky and conditions.

Racing in the youth category, Andrew put in a rock-solid top section in seeding but slipped-out in the technical bottom section and crossed the line in 12th. His race run was a much better story and, his words, "I took a risk to just push harder and try to ignore the wet conditions". He crossed the line in 3rd, earning himself a spot on the podium at his first National since 2019.


"The Women's field is super-competitive in the U19 category- Especially when your just 15 years old."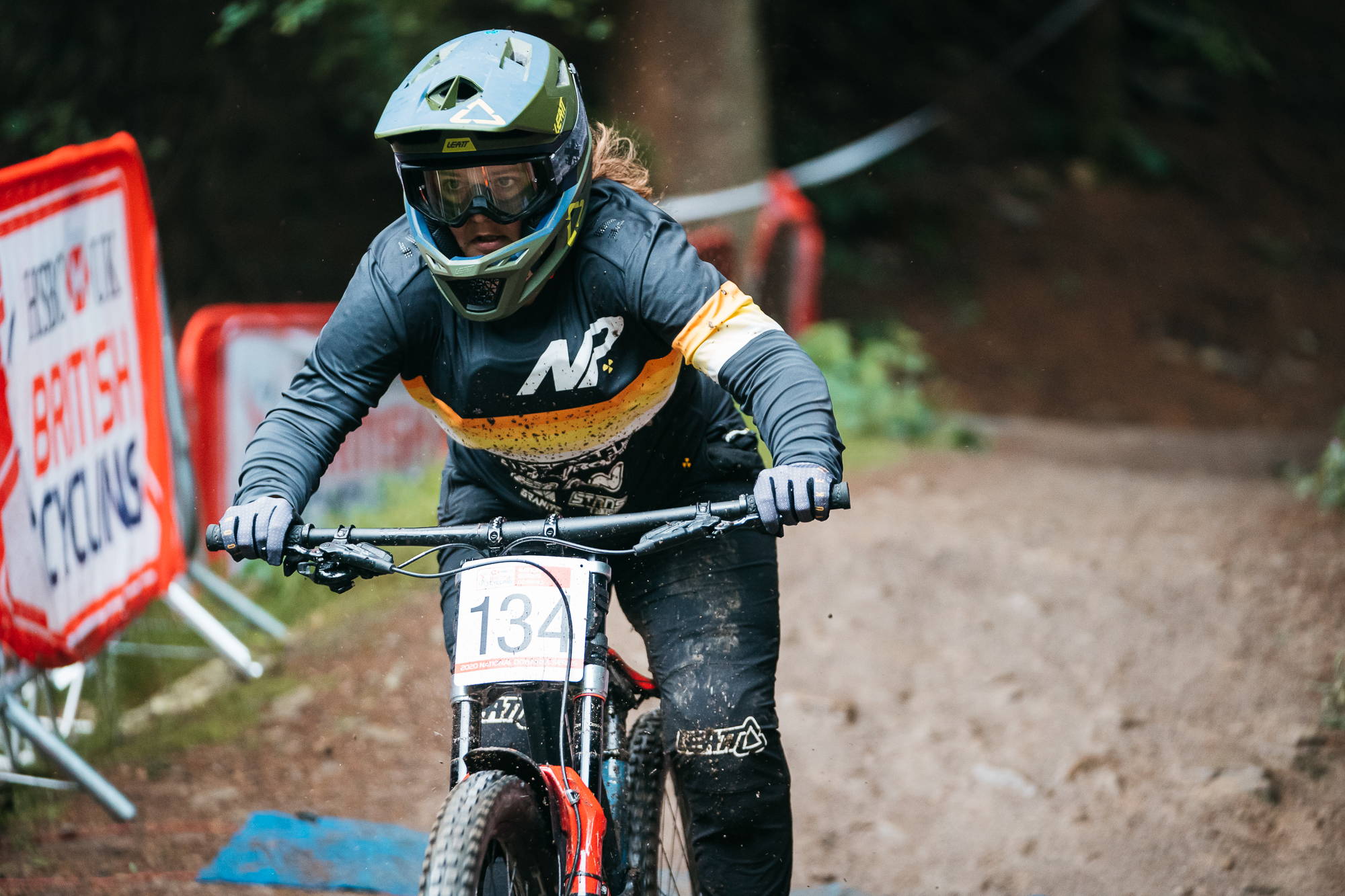 The Women's field is super competitive, made even more of a challenge for youth and Junior women all being rolled into a U19 category. At just 15 years old Wlin was up against it and the speed she hoped for didn't quite go as she'd hoped. But in tricky conditions she was a masterclass in consistency.

In her seeding run she placed 5th, then hit her race run just as the rain starting absolutely poor onto an already technical, rooty track.

Crossing the line she again finished an awesome 5th. Given the experience (some had World Cup experience) and age of the field she had to compete against, that's an awesome result.

Awesome results and great to have the team out there racing again. Congratulations to all the other privateer racers out there too!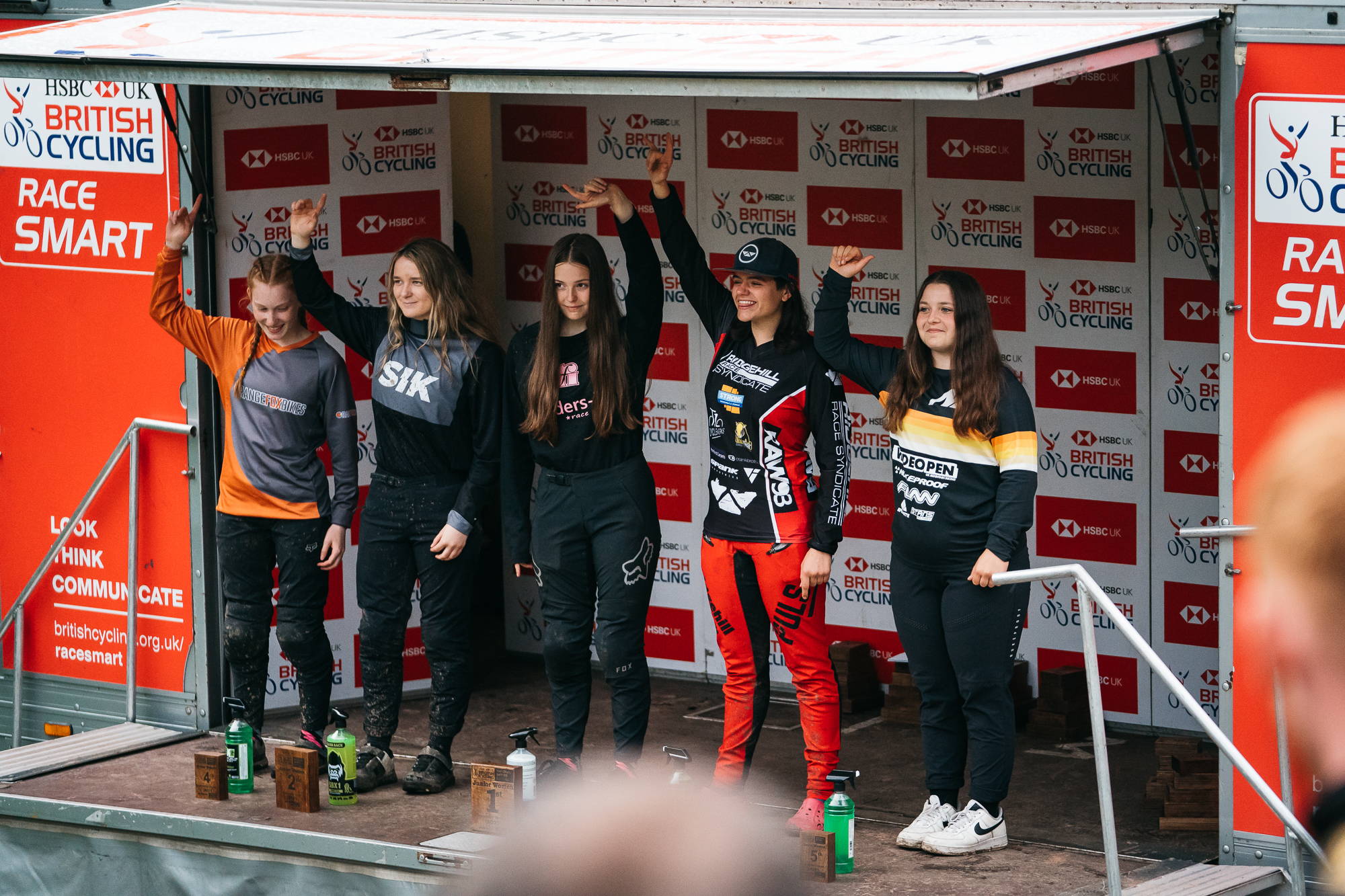 This coming weekend see's the team roll into Bala, North Wales for the British National Championships- the one off race to be crowned the "National Champion".

Good luck Elin and Andrew from us all at Nukeproof.
---
---