Enduro World Series Kicks Off
KICKING IT ALL OFF IN STYLE!
---
Nothing short of sensational. What a week in the beautiful Tweed Valley it has been.
Innerleithen was host to round One of the Enduro World Series. With a late kick off to the 2022 season, the June dates treated us to a few awesome days racing. Not only was the Tweed delivering with some awesome trails, but the crowd were insane, driving on the riders on every stage.
This was the first race that the full Nukeproof-Sram team were scheduled to be together for. Unfortunatly team legend Sam Hill was unable to make the event due to illness- he will be back for the next round. But Nukeproof had a top contingent of riders. Nukeproof-Sram Factory racing's Elliott Heap, Kelan Grant, Corey Watson, Dan Booker and Louise Ferguson were joined by DH ace Adam Brayton and Meg Whyte, Ant Hale & Cai Grocott. Plus the legendary Lil' Robbo came up to support and go on media duty with the Warrington Crew.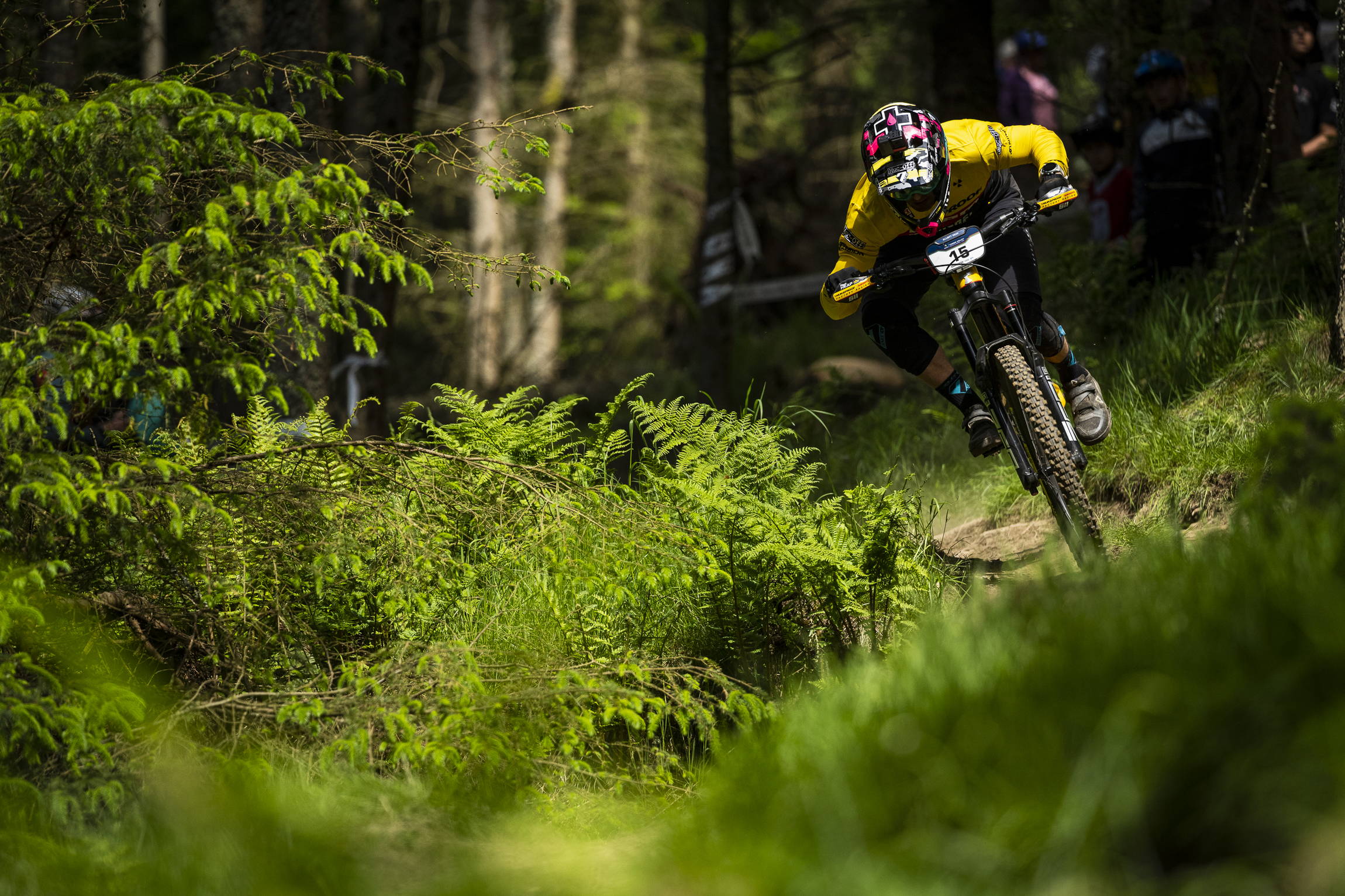 ---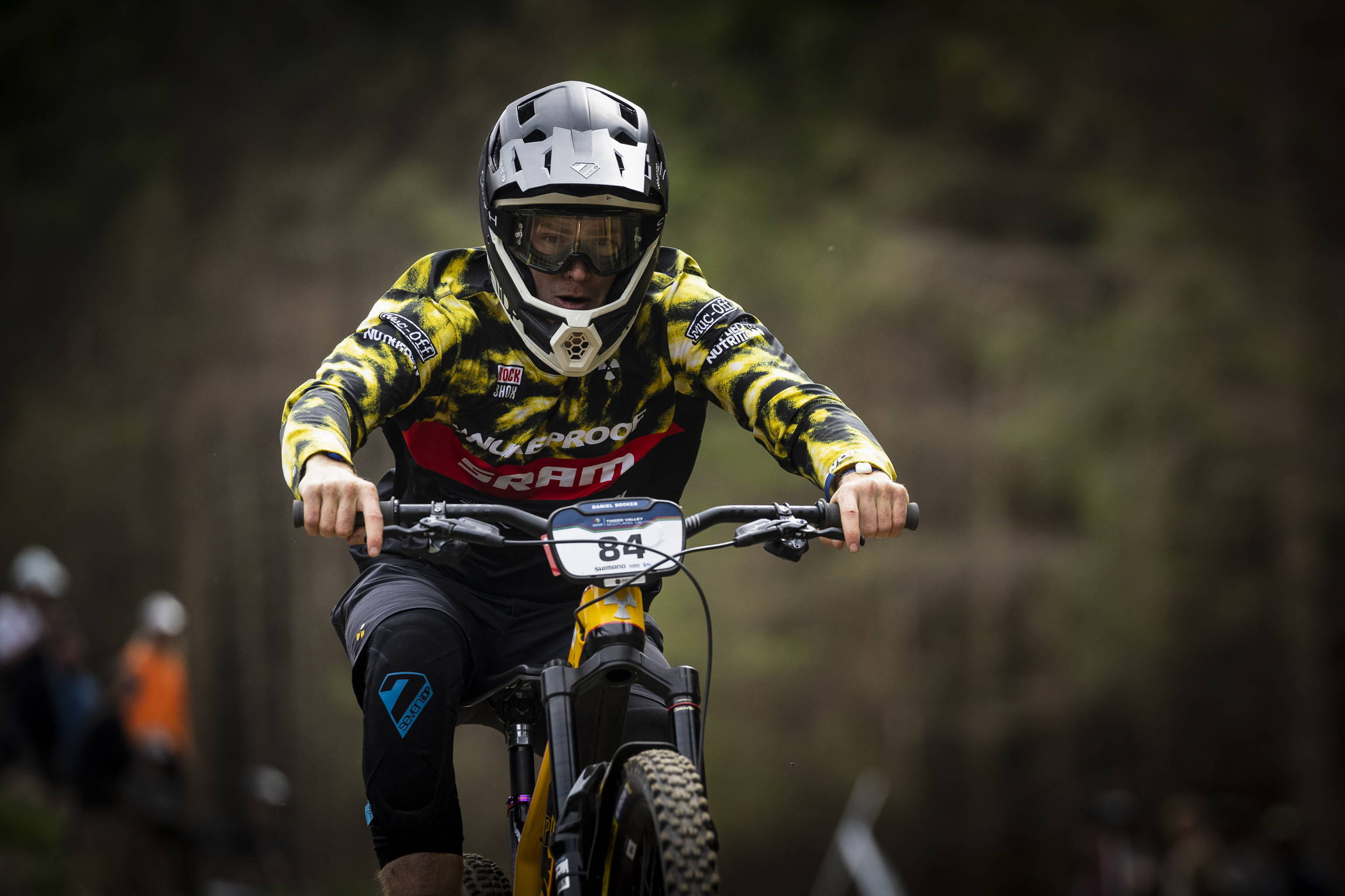 Dan Booker- Nukeproof-Sram Factory Racing:
If you hadn't heard of Dan Booker, you probably have now. The super chilled Tasmanian ace along with Innes was a new name right at the top. A connoisseur of flat pedals from Australia- sound familiar? Having travelled across to the UK a few weeks back and enjoying racing every weekend since. From qualifying for his first World Cup in Fort William World Cup through to a podium at the UK Downhill national the weekend before in Llangollen, Dan was quietly confident about his chances to perform.
Despite Dan being new to the Nukeproof-Sram Factory Team its taken no time to fit in. Fresh off a days Surfing in Bristol, Dan returned to the Tweed stoked to race.  
Being "unseeded" Dan was in the first wave of elite men and had the top 30 men chasing his times all day. He was the unofficial winner of the cancelled satge 2 also and was challenging for the podium all day, ending it in an incredible 5th place overall. But thats only half the story, a huge crash in practise left him with his leg up and ice packed on Friday and he didnt even practise two of the stages. His plans for this year may have changed a bit now and he's certainly going to have some of the big guns taking note of one of Tasmania's finest exports.
---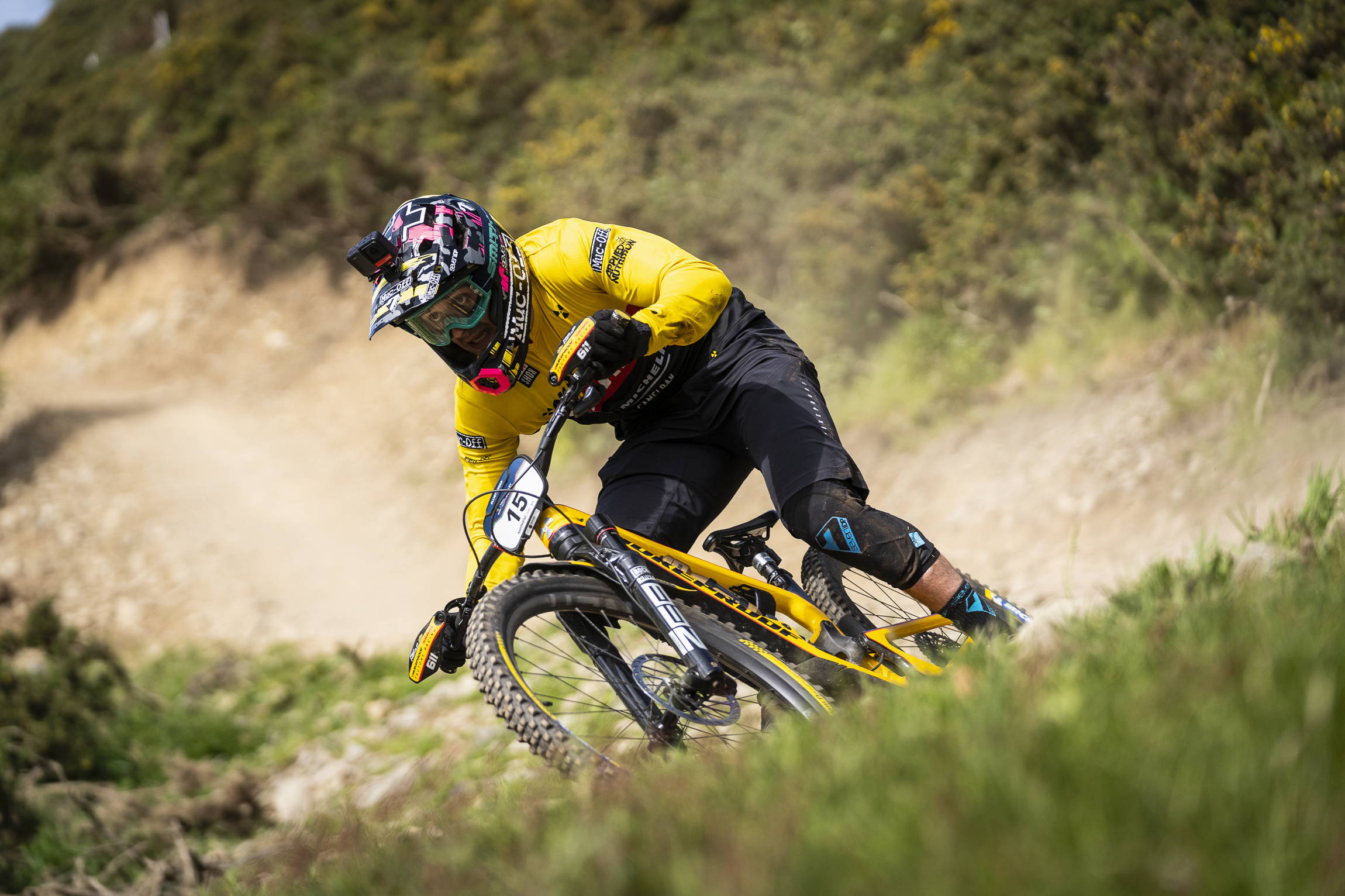 Elliott Heap- Nukeproof-Sram Factory Racing:
Having moved house a week ago into the Tweed Valley, its latest resident Elliott Heap was putting in some awesome stage times on his way to an incredible 6th overall, 2nd overall on a couple of stages on his way to his best overall result. What makes this more incredible (and frustrating for Elliott) is that he hit the deck three times during this run! Over the Winter Elliott chose to move from his trusty Mega 297 to the Giga 297 after a couple of weeks testing with SRAM and Rockshox he's starting to dial in the new vessel.
Its an awesome start to the year for Elliott, huge credit to the effort and training hes been putting in. Simply an insane talent and got to be a safe bet that he will be battling for top spots through this year. With the speed of the team pushing him along he could be in for a special year.  
---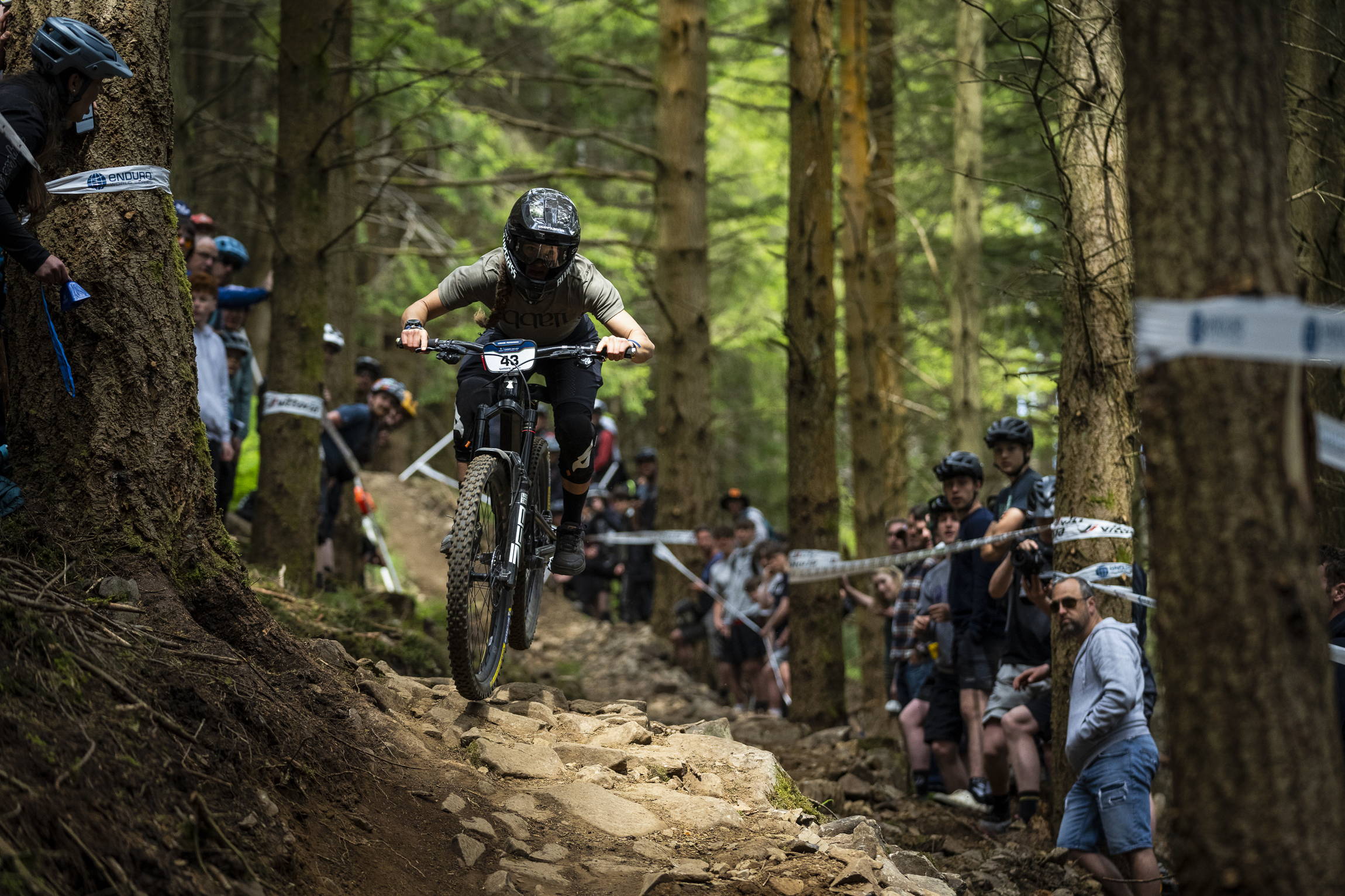 Louise Ferguson, Nukeproof-Sram Factory Racing:
In at the deep end of the Enduro World Series, Louise Ferguson was showing off her talent on a bike. A huge favorite with the crowd and awesome to see so many of her friends and family trackside to cheer her on. Some strong stages and small errors cost her a seriously top result, but a top 20 in your first EWS is nothing to be disappointed at! Seeing her speed on track was impressive and sure there are some very promising results to come. She's headed to Leogang this week with Dan to race the Downhill World Cup, settle some demons and have some fun!
---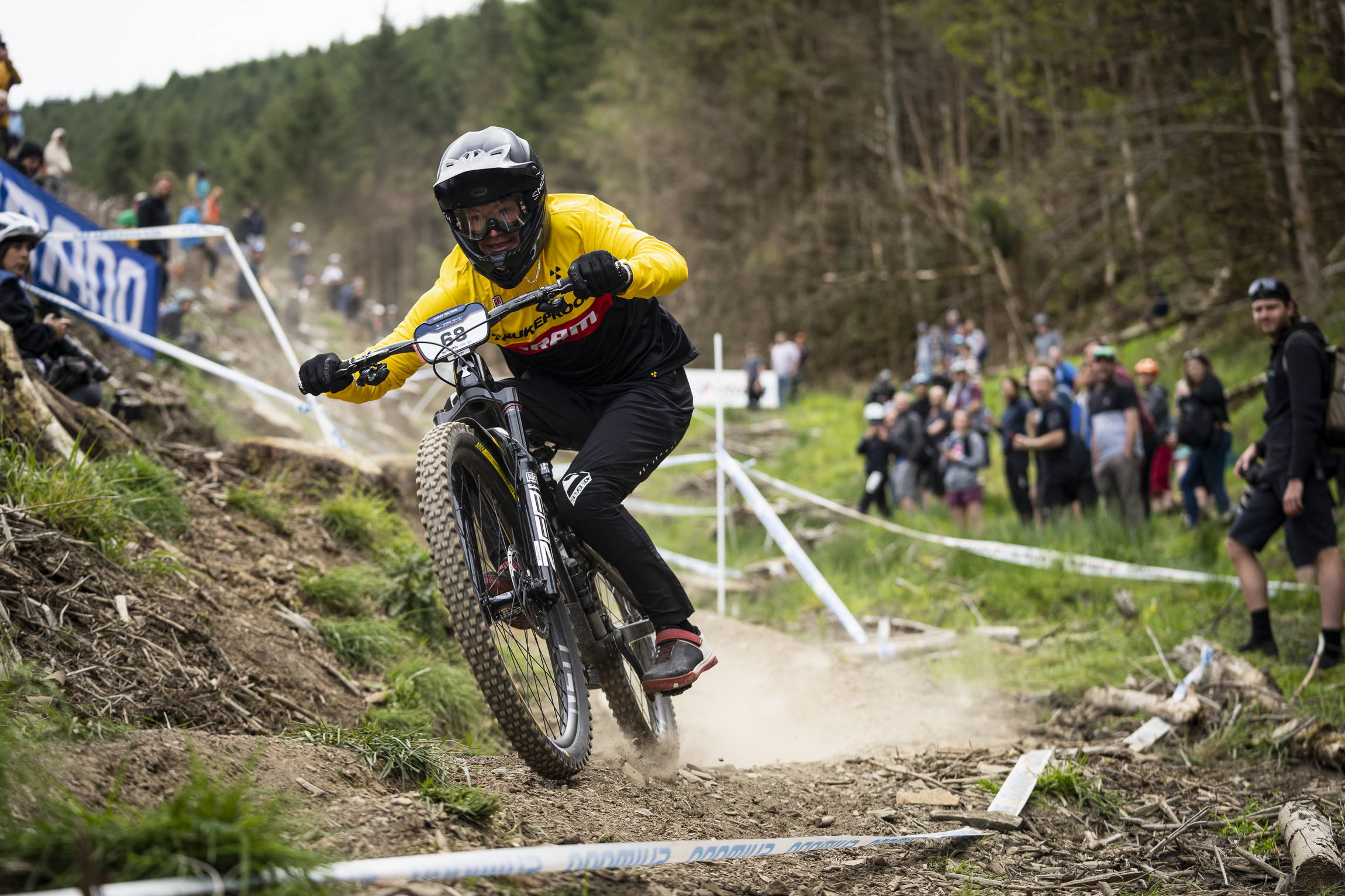 Corey Watson, Nukeproof-Sram Factory Racing:
One of the most stylish riders on the hill, the Tweed Valley local laid down some seriously good times and managed a huge 28th overall on his Mega 297. After last years life changing times as a privateer on his Mega, this year he's stepped up to some factory support. He rolls on to Petzen and Val Di Fassa now and we're sure you will be seeing him trouble the top of the timing sheets.
---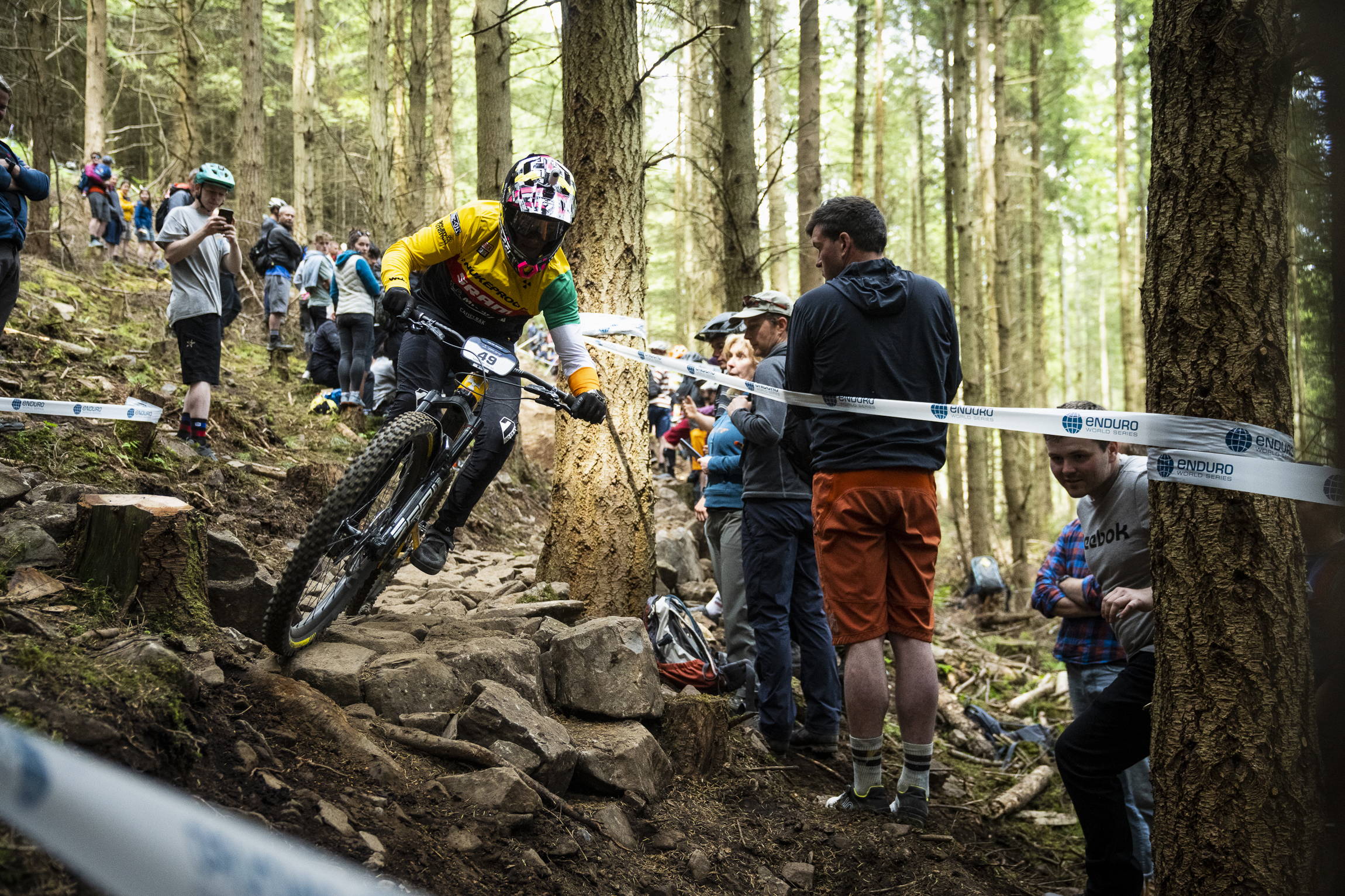 Kelan Grant, Nukeproof-Sram Factory Racing:
Tough breaks for Kelan Grant, the Irish National Champion entered both the E-EWS and EWS catagory and put some incredible times in each, but a series of unfortunate events prevented the result that Kelan deserved. Technical issues in the E-EWS cost him valuable time, but he never gave up and still posted a hugely respectable 12th place finish. In the EWS, a strong Pro stage result showed his speed, but after stage 2 was cancelled another tyre departing the rim cost him an overall result he wanted. Helped by his fellow riders he nursed his Giga to service (riding nearly all of the super rocky stage 4 on the rim- testiment to the strength of his Horizon Rims!) In service he managed to repair the rim to be usable and finished the day with a 7th place on the final stage! On the 3 stages he didnt have issues he posted 7th, 11th & 7th. Well done Kelan for sticking at it and smashing an awesome time in when possible.  
---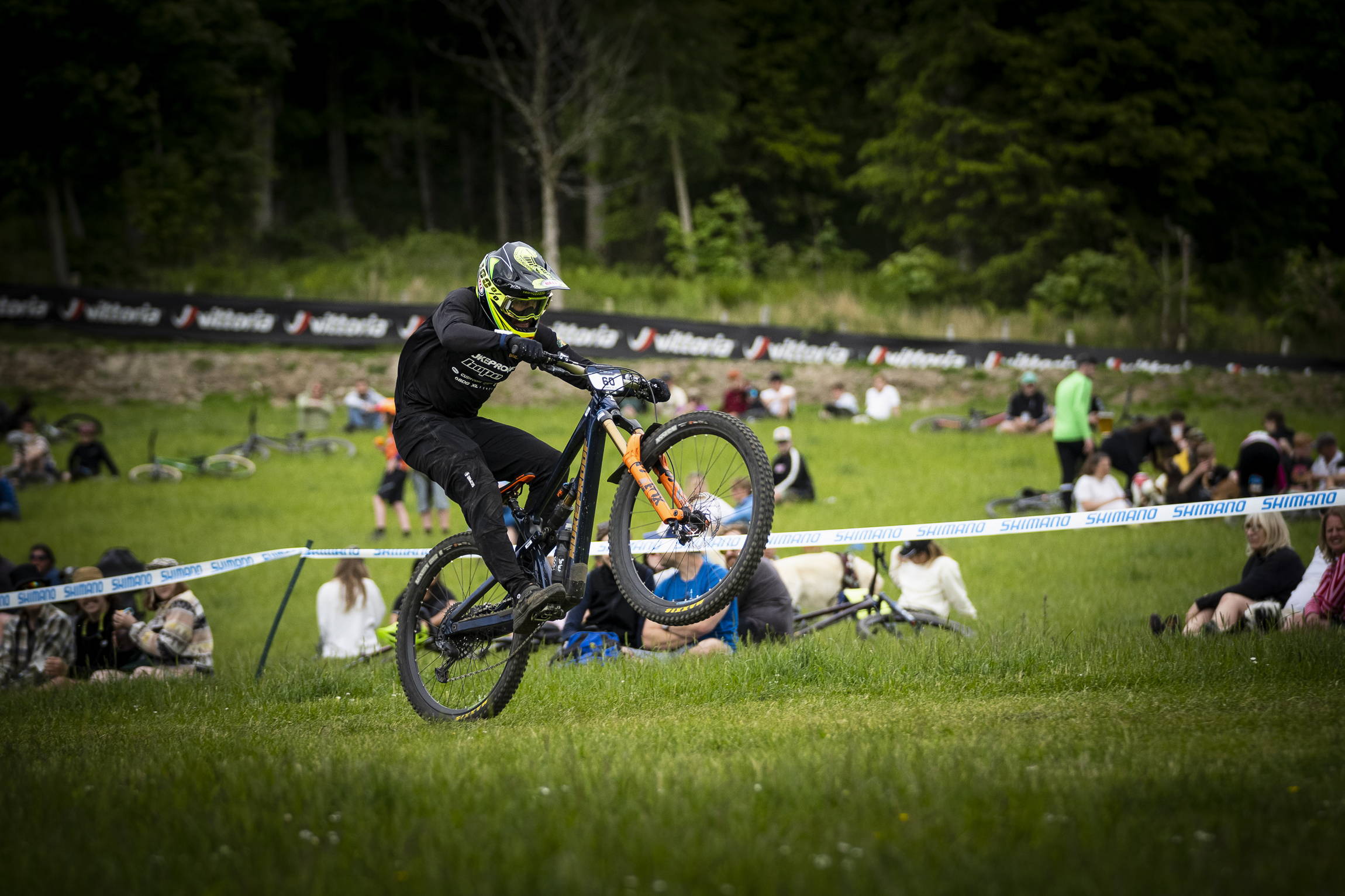 Adam Brayton, Nukeproof-Gast To Flat:
As well as the Nukeproof-Sram Factory team we had a couple of the "pro-vateers" across to join the fun. Downhill ace Adam Brayton was a fan favourite on the way to an awesome 18th place overall. The start of the year has provided a great foundation to the year and we're looking forward to seeing what Grandad does in the Downhill World Cup next weekend. Will he do any more Enduro World Series rounds too?
Ant Hale:
Ant Hale did an awesome job of a respectable 81th place to add to a 22nd in the E-EWS. Ant's aim was to make it round smoothly and he brought his Giga home, plus 'our lar provided the good times in the pits. Anyone not racing may not see that as a "good result" but Ant like a few of the other squad members has a full time day job and arrived late into the sport. He's probbaly raced more EWS events than he has nationals!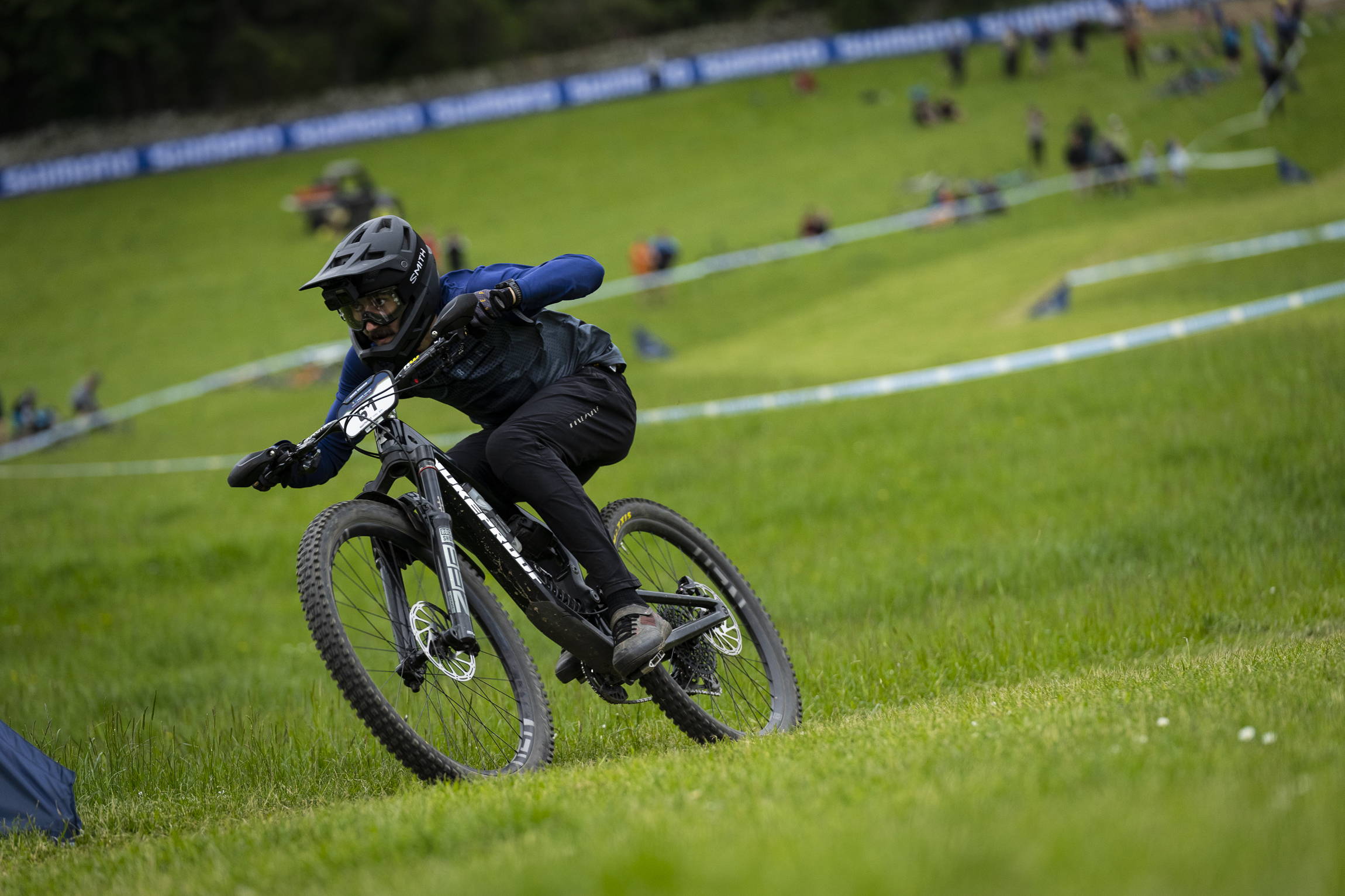 Innes Graham, Tweed Valley Bikes- DirtSchool:
The Final word has to go to Tweed local Innes Graham.
As a coach at Borders College and Dirt School and chief tea boy at Tweed Valley Bikes, Innes was racing his first EWS on his Giga 297 RS. On the Pro Stage on Saturday Innes set an awesome pace and only went and topped the timing sheet. Local knowledge helping for sure, but don't forget Innes comes from top downhill stock and the Pro Stage wasnt a trail that people ride much as it was a mash up of a number of lines. He's also racing the fastest people in the world, so deserves huge credit. The result put him "last man down on Sunday" to a wall of local support.
Whist others may have cracked, the smile on his face showed he was revelling in it. It ended with two stage wins and a huge 3rd place overall. Simply incredible. A huge congratulations to Innes and the whole of his team- plus Tweedvalley Bikes for giving him the time of work.
After a few years away from racing, its amazing to see Innes return, we look forward to seeing him return to a few more to back up this incredible result.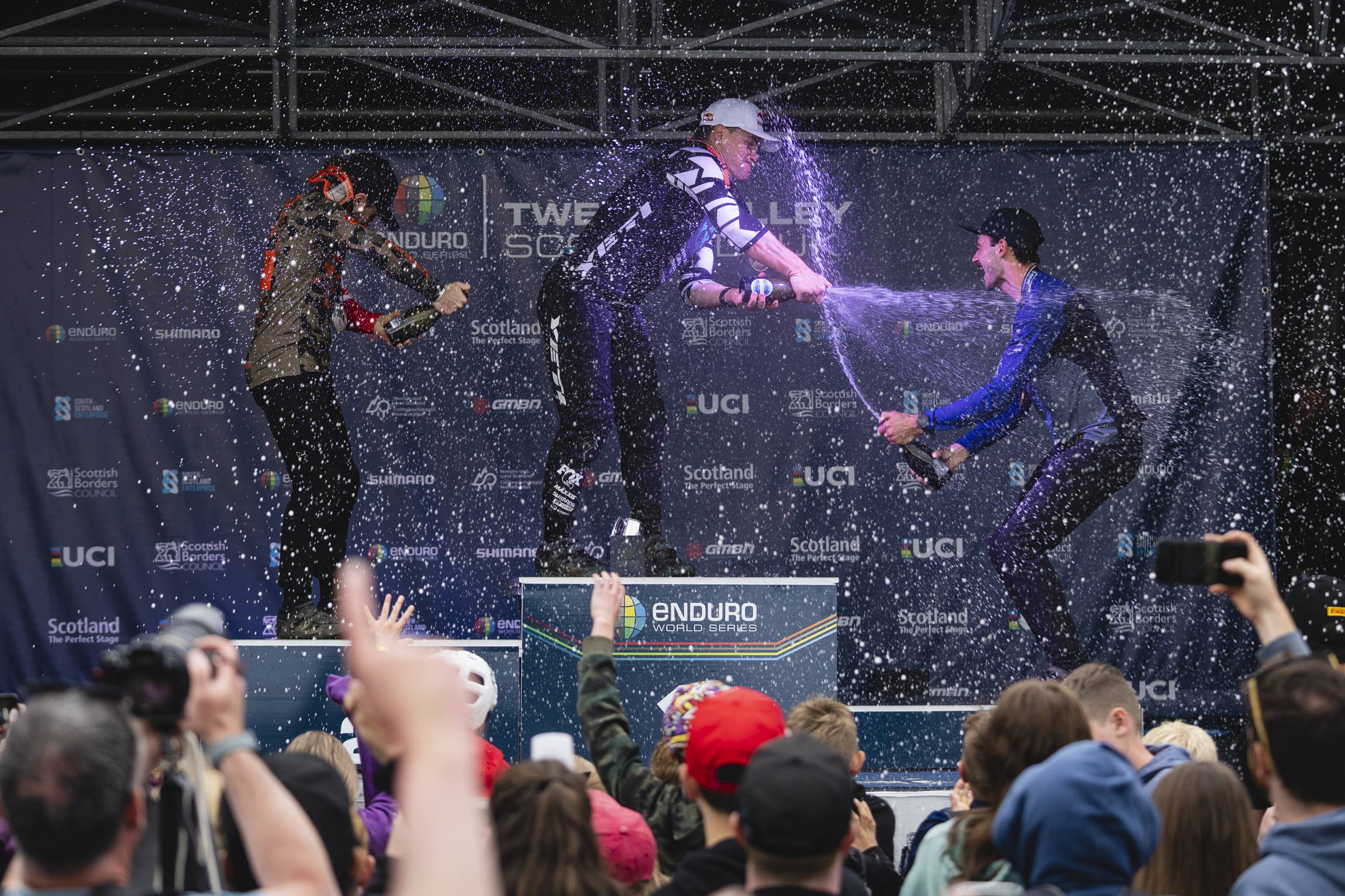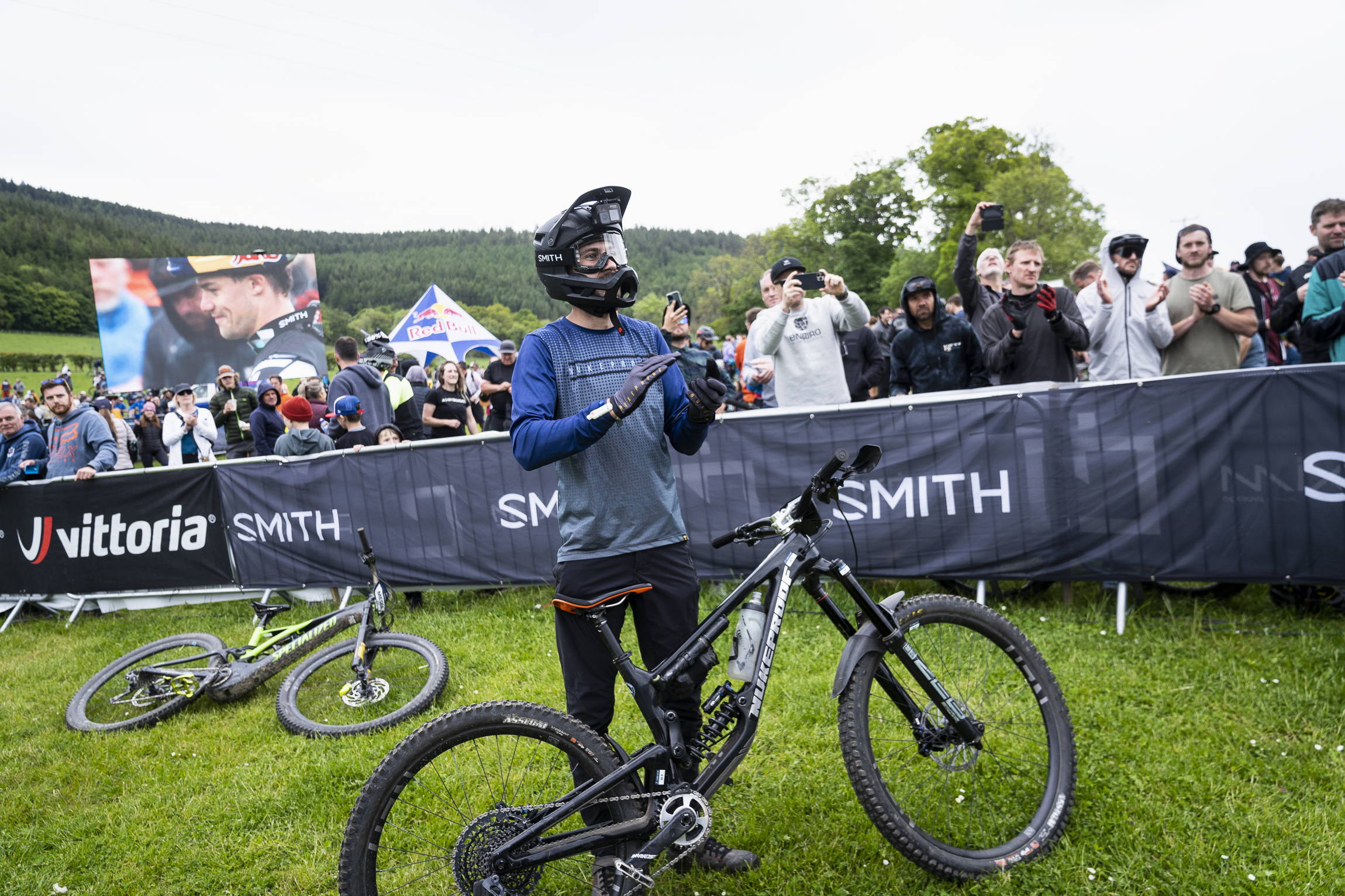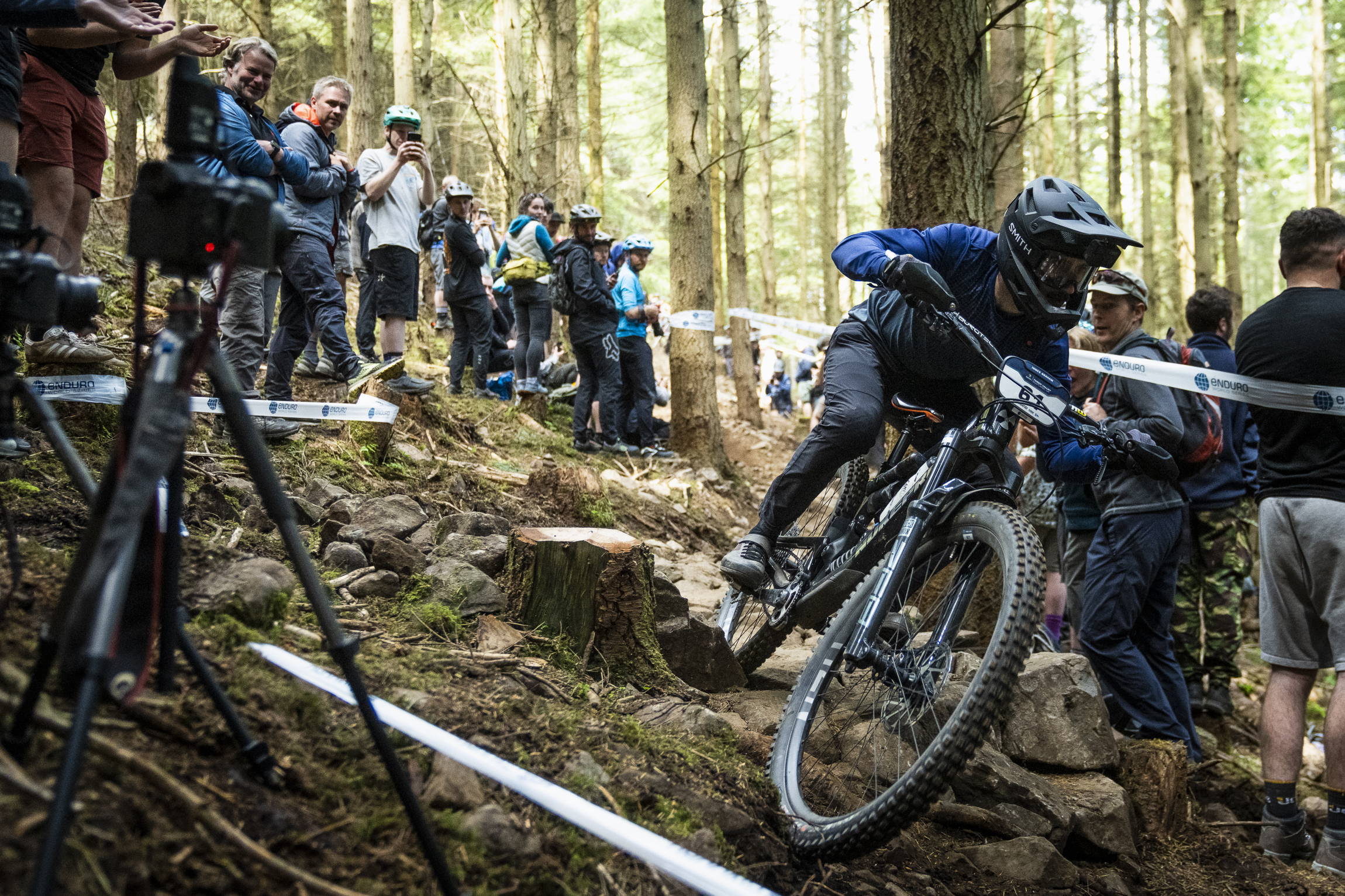 ---